We had special visitors come in to school from 'The Royal National Lifeboat Institution' who shared stories and knowledge with us on how to stay safe in water.  We had role play, sea and beach safety, spot the hazards activities, listened to the history of the RNLI and how lifeboat rescues operate.  We had a fantastic afternoon and thank the RNLI for their inspiring visit to our school.

DT – Linked to Grace Darling project

Science week in Year 2
What a fantastic week we've had in Year 2 this week! 
All of the children have shown great enthusiasm and perseverance as well as demonstrating that they can all ask super scientific questions.
From building bridges to big bangs.  Finding treasure (in ice) to making goo.  Developing our engineering skills and constructing marble rollercoasters.
We've certainly enjoyed ourselves and learnt so much along the way. 
We'd like to give a special thank you to Mr Pearce, who kindly gave up his time to visit us and deliver an afternoon filled with learning and excitement. 
Thanks Mr Pearce!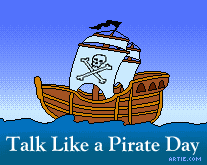 "Ahoy thar me hearties we have had a swashbuckling day for 'National Talk Like a Pirate Day.' Arr shiver me timbers thar she blows!"